Blu Cavalier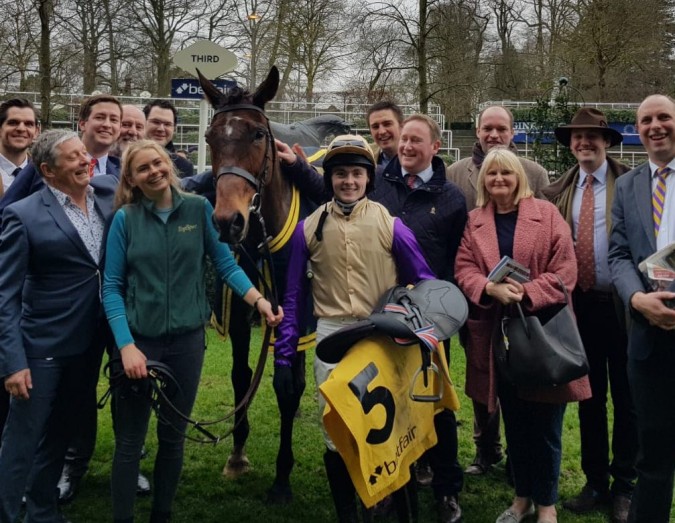 2010 bay gelding by Kayf Tara (GB)
ex Blue Ride (Ire) (King's Ride (Ire))
Blu Cavalier was purchased out of a selling hurdle at Fakenham in January 2019. Just a month later, he gave us all a day to remember when finishing third in the £85,000 Grade 3 Betfair Hurdle at Ascot!  He has since won in class 2 company and is a hugely exciting prospect for 2020.
Originally intended to be a six-month syndicate, Blu Cavalier ran a brilliant race to finish third in the Betfair Hurdle and backed that up with a fine run in the Grade 2 Select Hurdle, despite trip and ground being against him, so all involved decided to keep him in training for 2019/20.
On his second start of the season, he recorded a career-best effort to win a class 2 handicap hurdle at Doncaster and we are now looking forward to a very exciting 2020, which we hope will include a trip to the Cheltenham Festival!
Shares in Blu Cavalier have now sold out.
BLU CAVALIER (GB)
KAYF TARA (GB)
SADLERS WELLS (USA)
NORTHERN DANCER (CAN)
1961
1981
FAIRY BRIDGE (USA)
1975
1994
COLORSPIN (GB)
HIGH TOP (IRE)
1969
1983
REPROCOLOR (GB)
1976
2010
BLUE RIDE (IRE)
KINGS RIDE (IRE)
RARITY (GB)
1967
1976
RIDE (GB)
1966
1997
CHARMERES BEAUTY (IRE)
PHARDANTE (FR)
1982
1989
PRINCESS CHARMERE (IRE)
1980
All shares include the following benefits:
Stable Visits
Visit your horse at the trainer's yard, throughout the term of membership. This is arranged through Select Racing and our trainer will have your horse ready to go out on the gallops at a time that is convenient for you. 2.5% Shareholders have one individual visit per term, whilst 5%, 10% and 20% Shareholders can visit as often as they wish.
Owners Badge on Racedays
Every time your horse runs, you'll receive a guaranteed complimentary badge (2 badges for those with a 20% share).
Complimentary Hospitality
Each new syndicate is celebrated with a launch morning at the yard, followed by lunch with the trainer.
Bi-annual Owners Party
All shareholders (and a plus one) are invited to our Summer BBQ and Christmas Party.
Equal share of all prize-money won/sale proceeds
You'll receive your full share of all prize-money won by your horse during the syndicate term, as well as a share of any sale proceeds.
Though the training licence is under former event rider Ali's name, this burgeoning training operation based at Castle Piece Stables in Eastbury is very much a partnership, together with husband and ex-National Hunt jockey Sam.
With over 50 winners so far, Castle Piece Stables has seen a significant increase in capacity and Ali & Sam now have 40 horses in training for 2019.  With the use of private gallops, as well as all the facilities that Lambourn has to offer, it is a wonderful setting in which to train and we are delighted to have an involvement in the yard.
Blu Cavalier was their first horse for us and he finished a fine third in the £85,000 Betfair Hurdle at Ascot on his first start for us.  He is a tremendously exciting prospect for some top-class races in 2019/20.

Select Racing
Nathaniel Barnett has been the Select Racing Club Manager since its launch. Nathaniel has a wealth of experience in the industry, having worked as a form advisor for a leading flat trainer and as researcher for racing presenter Clare Balding. Nathaniel's experience both in managing a Racing Club and in the racing industry as a whole is a great asset to Select Racing, and he is always just a phone call away for all our members. With over 100 winners to date, he has also been a Group 1-winning syndicate manager on the flat.